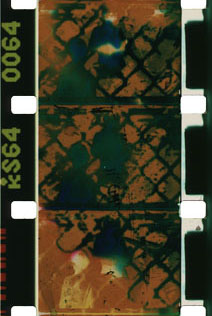 About the filmmaker
Since 1987 Pia Cseri-Briones has made a variety of alternative films that explore documentary subjects within an experimental aesthetic and technique. Her work integrates direct manipulation of the celluloid (via hand-colouring, hand-processing and optical printing) and a multi-lingual, non-linear structural framework dependent upon history, memory, and nostalgia. Ms. Cseri-Briones' films have been shown extensively in festivals and exhibitions in North America and in Europe. In 1992 she was a featured filmmaker at the Women's Film Festival of Spain and in 1997 won best film at the Madrid Experimental Cinema Week. Recent awards include an Individual Artists film production grant from the New York State Council on the Arts and an Artists Fellowship from the Art Matters Foundation.
Having lived in Canada, Spain, and Holland, Pia Cseri-Briones currently resides in Rochester, NY, «the world's image centre»® where she is a film artist, curator and educator. In the past, she was Media Center Coordinator at Visual Studies Workshop and Language Learning Specialist at the Multimedia Center, University of Rochester. Occasionally she teaches as an adjunct faculty member at Rochester Institute of Technology's Film School. Active in the arts community, she has served on various boards, including the Artists Advisory Committee of the New York Foundation for the Arts. Pia Cseri-Briones is a film artist of Hungarian-Spanish descent; she received a B.A. in English from McGill University in Montreal, Canada, and an M.F.A. in Cinema Production from Southern Illinois University.
---
Biografía de la directora
Desde 1987 Pia Cseri-Briones ha producido varias películas alternativas que examinan temas documentales dentro de una estética y técnica experimental. Su arte expone la manipulación directa del celuloide (mediante colorear a mano, revelar a mano, y positivado óptico) y una estructura multilingue, no-lineal dependiente de la historia, las memorias y la nostalgia. Sus películas han sido presentadas extensivamente en festivales de cine y exposiciones por todo Norte América y Europa. En 1992 fue invitada del Festival de Cine Hecho por Mujeres de España y en 1997 ganó mejor película en la Semana del Cine Experimental de Madrid. Premios recientes incluyen una beca individual por producción de cine del consejo de bellas artes del estado de Nueva York y una beca de la fundacion Art Matters de los EE.UU.
Tras vivir en Canadá, España, y Holanda, Pia Cseri-Briones reside generalmente en Rochester, Nueva York, «el centro mundial de la imagen»® como cineasta y pedagoga. Anteriormente estaba en el Visual Studies Workshop como Coordinadora del Centro de Medios Visuales y también como Especialista del Estudio de Idiomas en el Multimedia Center de la Universidad de Rochester. De vez en cuando forma parte de la facultad en la Escuela de Film del Rochester Institute of Technology. Activa en la comunidad, trabaja en varios directivas, como el Comité Consultivo de Artistas del New York Foundation for the Arts. Pia Cseri-Briones es cineasta de descendencia Hungaro-Español. Es licenciada de la Universidad McGill en Montreal, Canada y de la Universidad Southern Illinois (Licenciatura Superiora en Bellas Artes - MFA) en los EE.UU.